Britain's May says she will step down on June 7
By Julian Shea | China Daily | Updated: 2019-05-24 17:20
Theresa May has announced she is stepping down as Conservative Party leader and British prime minister on June 7 after three years in charge.
Her premiership has been defined by her failure to make progress on the issue of Brexit, and she said it was "now clear to me that it is in the best interests of the country" to find a new leader.
The Conservative Party will start the process of looking for a new leader in the following week, with May remaining as prime minister until that is complete.
She concluded in an emotional statement by saying it had been "the honor of my life" to serve "the country that I love" before breaking down in tears and going back inside 10 Downing Street.
The former home secretary took over from David Cameron as prime minister in summer 2016 after the Brexit referendum, where voters chose by 52 percent to 48 percent to leave the European Union.
Her time in office has been utterly dominated by Brexit, and she said it "will always remain a matter of deep regret that I did not manage to deliver Brexit," and added that "my successor will have to find consensus in Parliament" for it to happen.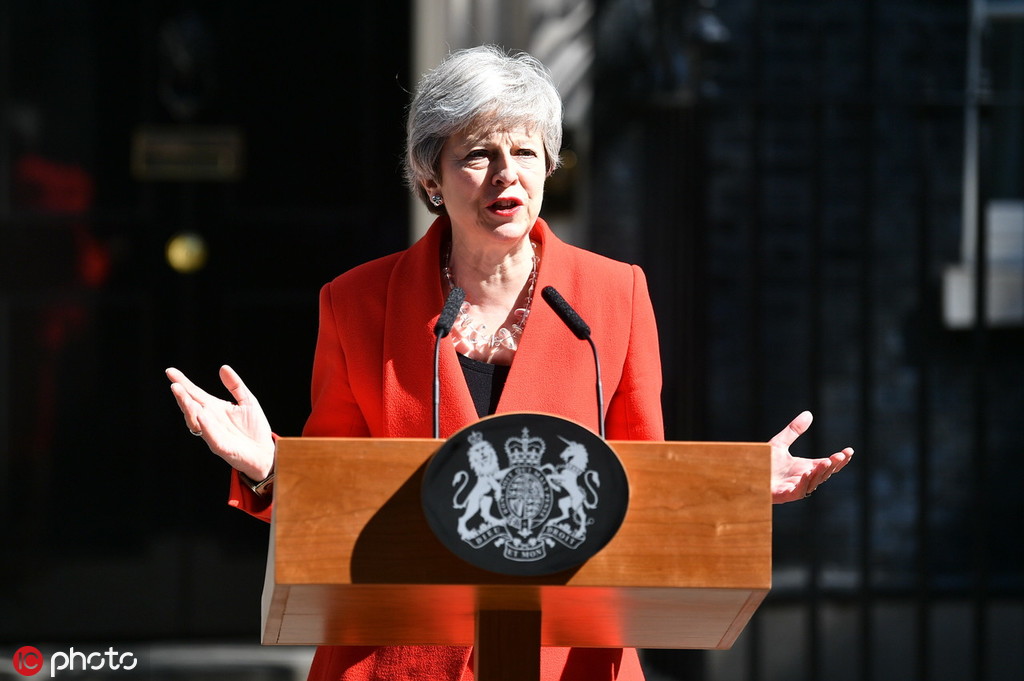 May then quoted Sir Nicholas Winton, the man responsible for organizing the Kindertransport scheme during World War II that saved the lives of thousands of children in occupied Europe, saying "never forget that compromise is not a dirty word. Life depends on compromise."
Critics called this hypocritical, saying May's failure to soften her stance or build bridges is one of the biggest reasons for the lack of progress over Brexit.
The race to succeed her has already begun, with the standout favorite being former foreign secretary Boris Johnson, a prominent supporter of the Leave campaign in 2016 who did not put himself forward for the leadership when Cameron stepped down.
Other leading contenders include former Brexit secretary Dominic Raab, Andrea Leadsom, who May beat to become leader three years ago, Michael Gove, another significant 2016 Leave supporter, Foreign Secretary Jeremy Hunt, who has previously compared the European Union to the Soviet Union, and Home Secretary Sajid Javid.
Members of the parliamentary Conservative Party will whittle the candidates down to a final two, with party members across the country making the final choice. Scottish National Party leader Nicola Sturgeon paid tribute to May but stressed the need for a general election as soon as possible.
"She and I had profound disagreements-not least on her handling of Brexit and her disregard for Scotland's interests. However, leadership is tough-especially in these times-and she deserves thanks for her service," she tweeted.
"Her departure will not solve the Brexit mess that the Tories have created. Only putting the matter back to the people can do that. ... The prospect of an even more hard-line Brexiteer now becoming PM and threatening a no-deal exit is deeply concerning."